Kayaking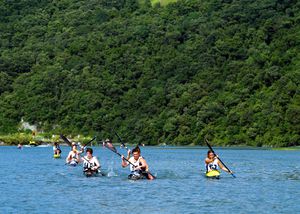 Go kayaking on the Urola or Deba rivers. Paddle your way along the most well-known spots in the Urola and Deba estuaries. You can get to know these unique spots in the company of an expert guide who is familiar with the area, while enjoying a very different day out, outdoors in nature.
This activity gives visitors the opportunity to appreciate this natural enclave of immense environmental value, whose outstanding features include the dunes, marshes, holm oak woods and islets. This is, undoubtedly, a very special adventure.
Companies that offer Kayaking:
BEGI BISTAN
657794677
Piragua irteerak, bela eta kanoa.